Street Sweeping Services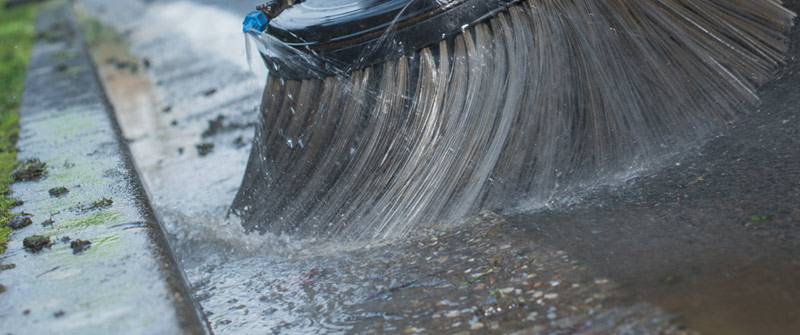 The Importance of Street Sweeping
It may seem like a simple task, but street sweeping is important to the community for several reasons. The main reason is to remove the debris that builds up in the "gutters" (or sides) of the road. Removing this debris on a consistent basis: leaves, branches, dirt, sand and other pollutants, protects waterways from spreading diseases and waste by catching it before it can wash into storm drains. Also, clean streets are important in times of heavy rain because they allow run off to drain quickly, avoiding flooding, standing water, and slick streets.
Regular street sweeping helps keep roads clean and property values up. People and animals also benefit from having a clean community.
Benefits of Hiring a Company
Buying your own street sweeping machinery is highly cost-prohibitive, so unless you have a large community and can afford your own equipment, hiring a service like Kleen Sweeps makes a lot of sense. The sweeping service will be less expensive and you won't need to worry about equipment maintenance. A sweeping company will do the job on a regular basis so scheduling is not a problem.
Why Kleen Sweeps?
From military installations to the entire perimeter of Oahu, Kleen Sweeps can, and has, done it all. We are the largest street sweeping company in Hawaii. If you need any of the following services, give us a call:
Scheduled weekly or monthly road sweeping
Municipal sweeping
Military installation sweeping
Homeowner Association street sweeping
Public parking area sweeping and maintenance
Pre-event and post-event sweeping
Kleen Sweeps provides you with professional, efficient, and high quality service, guaranteed to meet or exceed your expectations. Our company was founded in 1991 so we have gained a tremendous amount of experience adding to our expertise in managing sweeping projects of all kinds. Our staff is knowledgeable, experienced, reliable, and friendly.
Give Kleen Sweeps a call today!