Construction Site Sweeping Services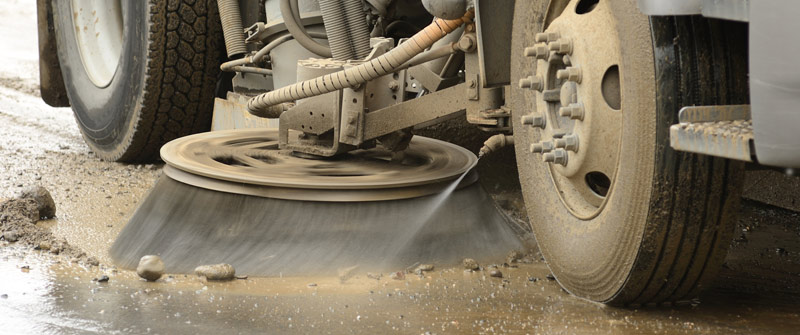 What is Construction Site Sweeping?
Whenever there is construction, there will be a lot of dirt, sand, rocks, tree roots, nails, and other potentially dangerous debris. The EPA has strict rules about this type of waste because it can pollute stormwater runoff. When construction vehicles drive off a site they often track out dirt, mud, and more into the road. If not removed regularly, this type of debris will end up in the stormwater or sewer systems. This means construction sites must have regular sweeping of the roadways around the site to be compliant with environmental regulations.
The Importance of Construction Site Sweeping
As mentioned briefly above, construction site sweeping reduces the amount of pollutants that enter the stormwater and/or sewer systems. Sweeping also helps protect the community's health and that of the environment. Construction companies must meet EPA requirements in order to avoid issues like erosion, water contamination, sedimentation, and non-compliance with the Clean Water Act. This is where Kleen Sweeps can help.
During construction, sites can be an irritant to neighbors because of the dirt, mud, noise, and inconvenience. Regularly scheduled street and site sweeping help your company maintain the overall cleanliness of your construction site while ensuring you comply with federal, state, and local regulations. At Kleen Sweeps we know what's required to maintain compliance thereby helping you avoid citations, fines and shutdowns.
Kleen Sweeps
Kleen Sweeps has the experience and flexible schedules to meet your timelines. We sweep so you don't have to, allowing your site managers to do their job while we keep your company compliant with local and state environmental regulations.
Runoff and Tracked Dirt
Contractors need to provide controls on an active construction or demolition site to help prevent dirt and debris from entering storm drains and ultimately the water system.
Kleen Sweeps will make sure that when you dig, the dirt stays on your construction site as opposed to draining into the neighbors' yards, the street, or into the stormwater sewer system.
Vehicles exiting the job site can track out dirt and other materials onto paved roads. When you have a consistent construction sweeping plan in place it will reduce your liability from damage caused by rocks, dirt and other debris. Maintaining a clean construction site keeps your team working efficiently and helps promote a positive image of your company within the community and with your local, regional, and federal inspectors.
Give Kleen Sweeps a call today and we can get you set up with a regular construction site sweeping plan.